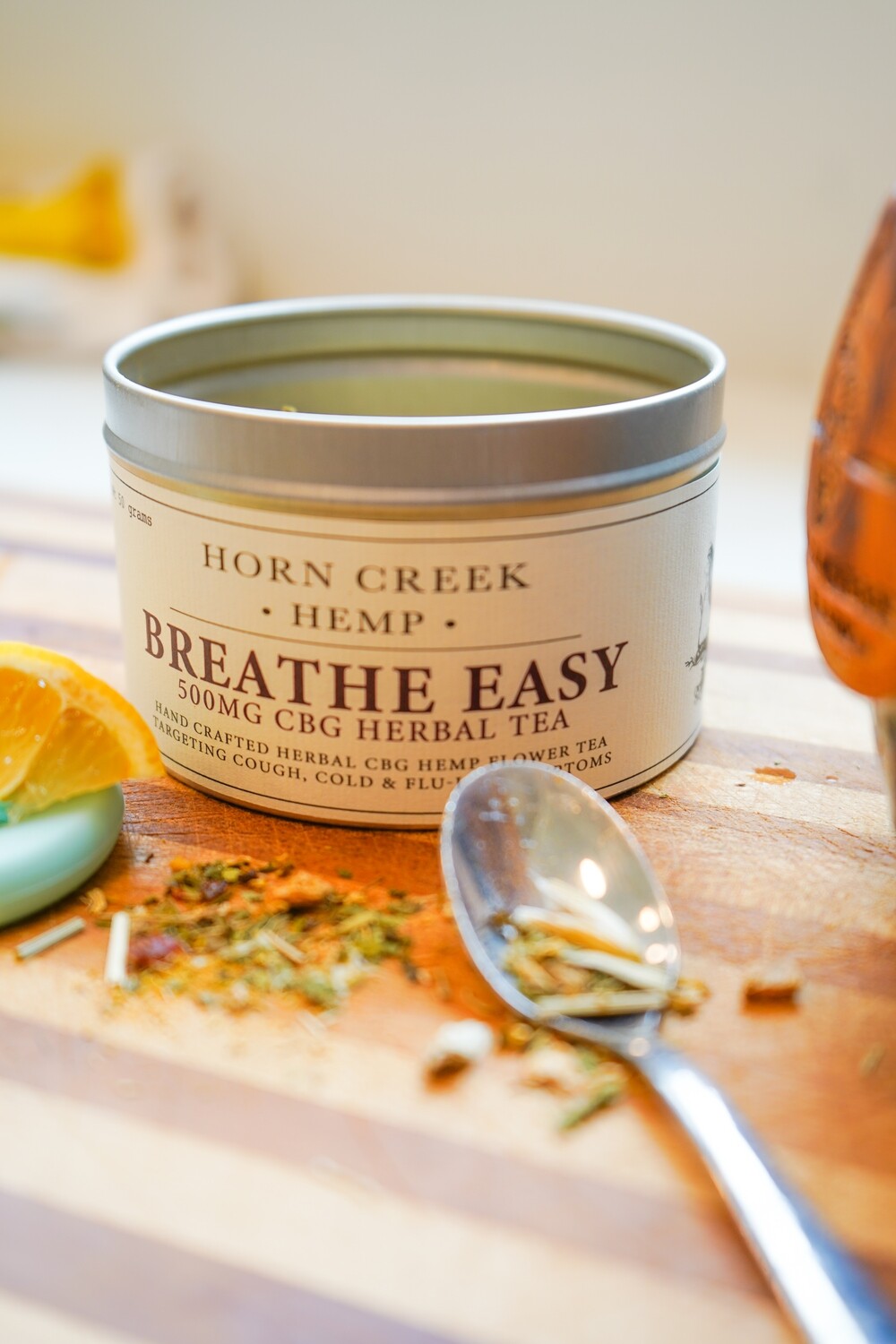 Breathe Easy CBG Hemp Flower Tea
SKU CBGHFHT-BREATHE
Product Details
Ready to Breathe Easy?

Horn Creek Hemp Flower tea blend is carefully crafted with our whole flower CBG Hemp. CBG is the newly celebrated powerhouse of the phytocannabinoids.

"Breathe Easy" our winter cough and cold tea is a carefully crafted blend of old-school medicinal roots, bark, herbs, and botanicals. Century's old tried, and true these elements work together synergistically to open and calm stubborn deep chest issues.
Aroma: A strong minty earthy aroma with a hint of citrus, thyme, and ginger.
Ingredients: CBG hemp flower, peppermint, lemongrass, raspberry leaf, thyme, elderflower, St John's Wort, rose hips, ginger, echinacea root, lemon rind, licorice root, milky oats, turmeric powder, turmeric root, slippery elm bark, marshmallow root, chamomile flower, and chamomile leaf.
Brew Instructions: Fill 1 tablespoon of tea in a cloth tea bag or mesh basket and place in your favorite mug. Pour 8 ounces of boiling water over the tea and allow to steep for 3-5 minutes or until desired strength is reached. This tea can also be simmered gently in a saucepan for 10-12 minutes for a stronger decoction.
Precautions: Not for use in pregnancy except under the supervision of a qualified healthcare practitioner. Persons with hypertension, liver disorders, edema, severe kidney insufficiency, low blood potassium, or heart disease should exercise caution using licorice root. Slippery Elm and Marshmallow are in the heavy mucilage containing Malvaceae family. They are known to be soothing to irritated lung tissue and used as an expectorate.
Orally administered drugs should be taken 1 hour before use or several hours after, as marshmallow and slippery elm may slow the absorption. We recommend that you consult with a qualified healthcare practitioner before using herbal products, particularly if you are pregnant, nursing, or on any medications.
Shipping and Handling: Each package is carefully is shipped in a generic box with all legal documentation.
*Please note: It's the buyer's responsibility to know your state's regulations for hemp and CBD products. 2014 Farm Bill Compliant. Questions? Call 877-541-4367 or email sales@horncreekhemp.com.
*FDA Disclaimer: These statements have not been evaluated by the FDA. This product is not intended to diagnose, treat, cure or prevent any disease. Consult your physician if you are pregnant, nursing, or on medication. Keep out of the reach of children.
Save this product for later