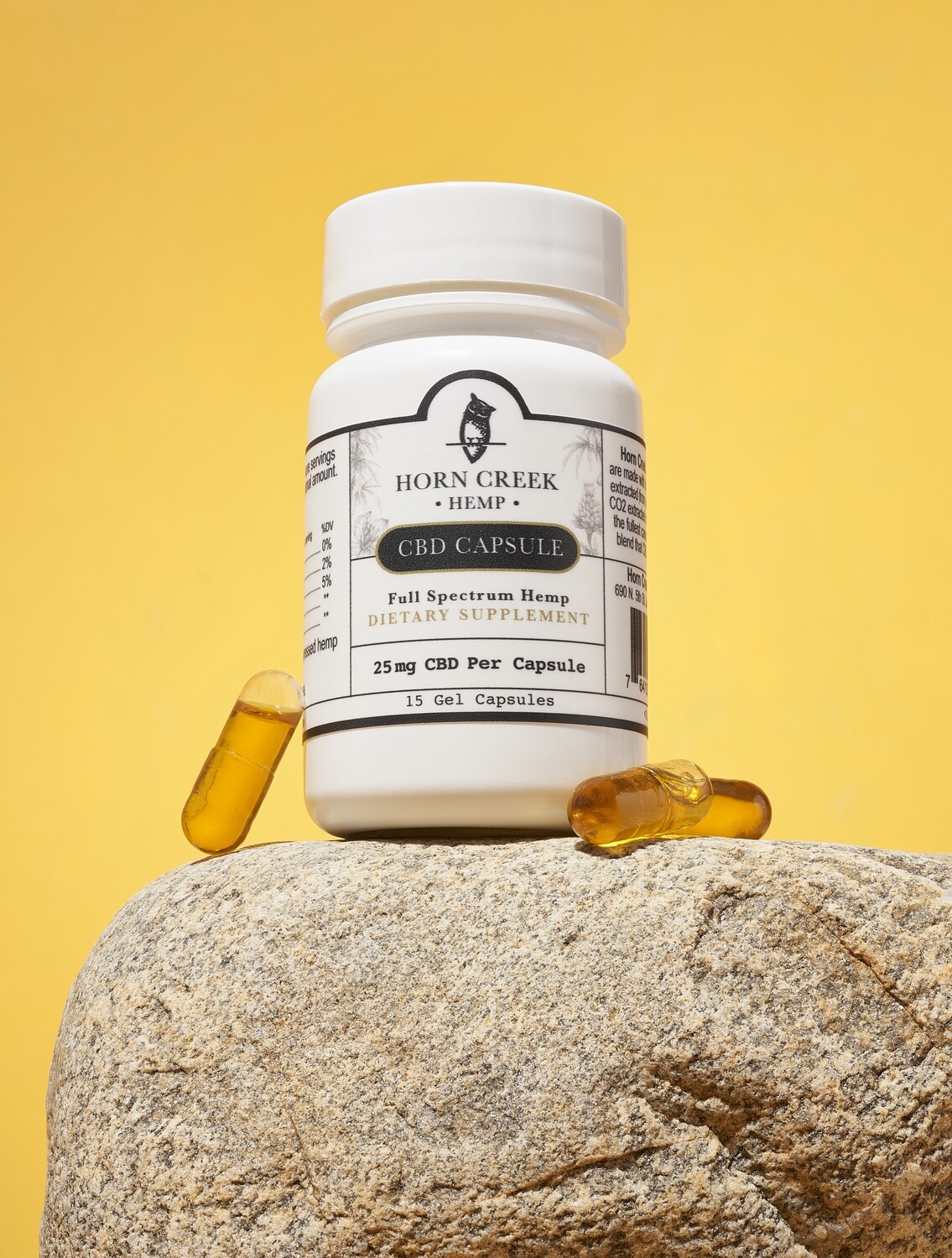 CBDa Liquid Capsules | Full Spectrum
SKU FSCBDGC
High Times Hemp Cup | 3rd place Winner
Product Details
CBD-a is the acidic precursor to CBD. Research is showing it to be far more bio-available than converted CBD. CBD-a is converted to CBD in most extraction processes. Our processor uses supercritical CO2 extraction to maintain the integrity of the CBD-a compound for those who prefer it.
In January 2022, Oregon State University released a study showing that CBDa and CBGa binds to spike proteins in the COVID virus, making it more difficult to infect a host. Study here. CBGa can be found in highest concentration in our CBG kief.
Horn Creek crafts our recipes using concentrates made from our organically sun-grown material. We started growing Special Sauce hemp flower under the Hemp Pilot Program in 2016 and every season since. It's a perennial favorite known for high CBD content, strong terpenes, and high resin yields. It was an easy choice when we started to venture into the world of extractions. Working closely with local extractors, we processed our raw CBD-rich hemp material into beautiful golden Full Spectrum CBD Crude Oil.

Special Sauce has been received several accolades including the 2020 Golden Grow Awards: 1st place in "Extracts", 2nd place "Judge's Favorite" & 3rd Place "People's Choice"; 2020 Cultivar Classic Silver Medal in "Hemp".
CBD & CBDa liquid capsules are the perfect alternative for those who prefer not to eat, smoke, or hold CBD in their mouth. Some users claim that CBD pills may give a longer-lasting effect. We are excited to see the information that becomes available as we look closer into the potential of raw cannabinoids.
---
Each Liquid Capsule Contains:
25 mg of Full Spectrum CBD-A & CBD Hemp Oil.

CO2 extraction- Some Raw Cannabinoids

Cultivar Specific- Special Sauce

Cannabinoid Rich (7.7 mg

CBD | 23.4 mg CBDa | 0.4 mg THCA | 0.04 mg Delta 9 | 0.42 mg CBGa)

Intact Terpenes (

Caryophyllene | Myrcene | Pinene )

Fast to disintegrate
Made to food-grade standards
Suggested Serving Size: Take 1-2 liquid capsules daily. Adjust as needed to reach the desired effect. These are labeled as CBD capsules and the ratio of CBDa to CBD is outlined on the COA.
Shipping and Handling: Each package is carefully shipped in a generic box with all legal documentation.
*FDA Disclaimer: These statements have not been evaluated by the FDA. This product is not intended to diagnose, treat, cure or prevent any disease. Consult your physician if you are pregnant, nursing, or on medication. Keep out of the reach of children.
Save this product for later