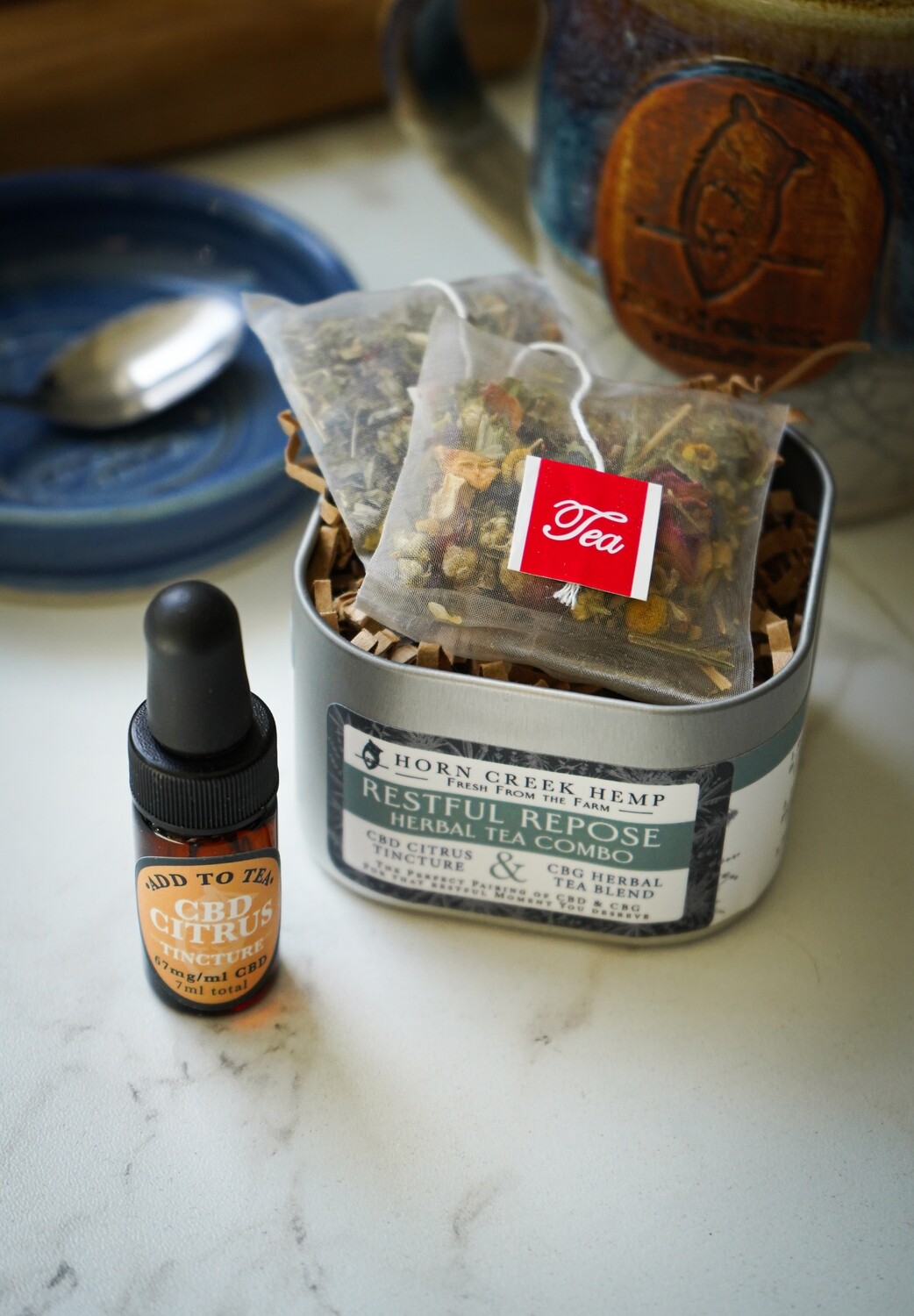 Restful Repose CBG Herbal Tea Combo
SKU CBGTCBDTK
Product Details
Your Evening Ritual Just Got Better.
This relaxing Restful Repose is a colorful and fragrant combination of caffeine-free herbs. Charming characters like Lemon Balm, Peppermint, and Lemon verbena will lift spirits. We rounded this offering out by including a small dropper of our CBD (500 mg) Citrus tincture that you can add to the tea. This botanical tincture is an ideal way to add CBD to your daily routine!
Suggested Use: Simmer 1 tea bag of herbal tea blend per 8 ounces of water boiling water. Let steep for 3-5 minutes, add a few drops of CBD Citrus tincture, and sweeten to taste.
Tea Ingredients: CBG Hemp Flower, Peppermint, Lemon Balm & Lemon Verbena, Chamomile, Passion Flower, Milky Oat Tops, Skull Cap, California Poppy, Ginger Root, Rose Hips, Lemon rind, and Hibiscus and a boost to your day.
Tincture Ingredients: MTC coconut oil, safflower oil, Broad Spectrum CBD, and a blend of tangerine, orange, and lemon oils complement the palate.

Precautions: Skullcap, Lemon Balm, and Passion Flower may cause drowsiness. Consult your physician if you are unsure, taking medications, or are pregnant or nursing.
Shipping and Handling: Each package is carefully is shipped in a generic box with all legal documentation.
*Please note: It's the buyer's responsibility to know your state's regulations for hemp and CBD products. 2014 Farm Bill Compliant. Questions? Call 877-541-4367 or email sales@horncreekhemp.com.
*FDA Disclaimer: These statements have not been evaluated by the FDA. This product is not intended to diagnose, treat, cure or prevent any disease. Consult your physician if you are pregnant, nursing, or on medication. Keep out of the reach of children.
Save this product for later