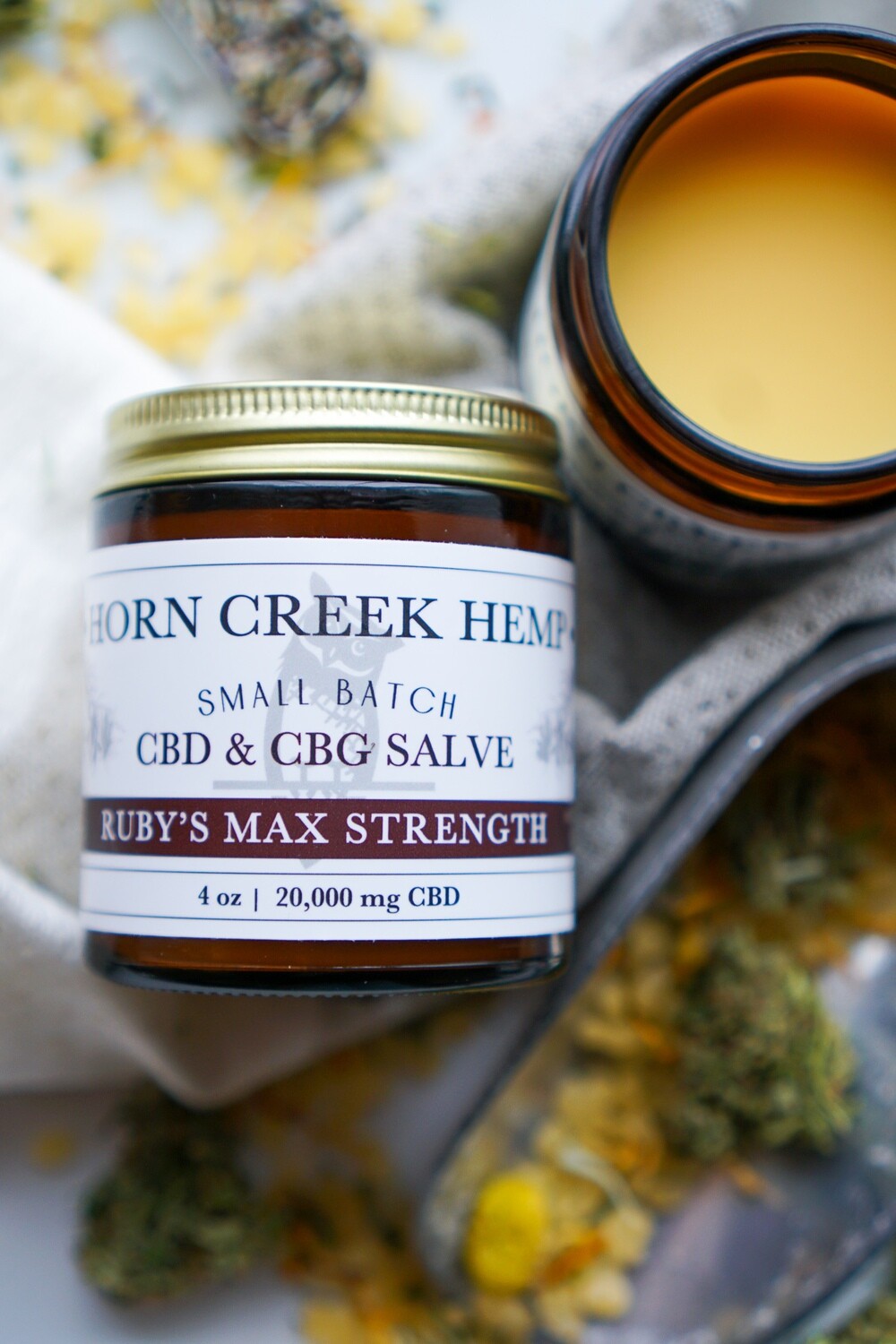 Ruby's Max Strength CBD Salve
SKU RMSCBDS
Product Details
Ruby's MAX Strength Broad Spectrum CBD Salve
This new addition's foundation is based in something we believe deeply in, the healing power of nature. Our hand crafted salves are what originally drew us into growing hemp. Ruby's MAX uses 5,000 mg of CBD per ounce for those with a high tolerance.
Add this broad spectrum CBD salve to your daily routine or perhaps there's someone special that can benefit from ancient and rediscovered natural plant medicines
Whitney crafts our recipes using ancient herbal remedies combined with CBD extracts from our sun grown material. This salve combines traditional oil slow infusion techniques and modern extraction. She steeps homeopathic herbs and whole flower CBG in coconut oil for months, constantly replenishing the ingredients. We combine this with broad spectrum distillate made from our Special Sauce CBD flower, and essential oils for aroma and absorption.
Available in two sizes:
(2) oz jar containing 10,000 mg of CBD
(4) oz jar containing 20,000 mg of CBD.
Each ounce contains 5,000 mg of Broad Spectrum CBD. We recommend applying liberally to affected area. For better absorption or for deeper aches, try a warm compress or soak just prior to application.. Adjust as needed to reach desired effect. Avoid contact with eyes and other sensitive areas. We recommend testing sensitive skin and discontinue use if irritation occurs.

*FDA disclaimer: These statements have not been evaluated by the FDA. This product is not intended to diagnose, treat, cure or prevent any disease. Consult your physician if you are pregnant, nursing, or on medication. Keep out of the reach of children. For external use only.
Save this product for later