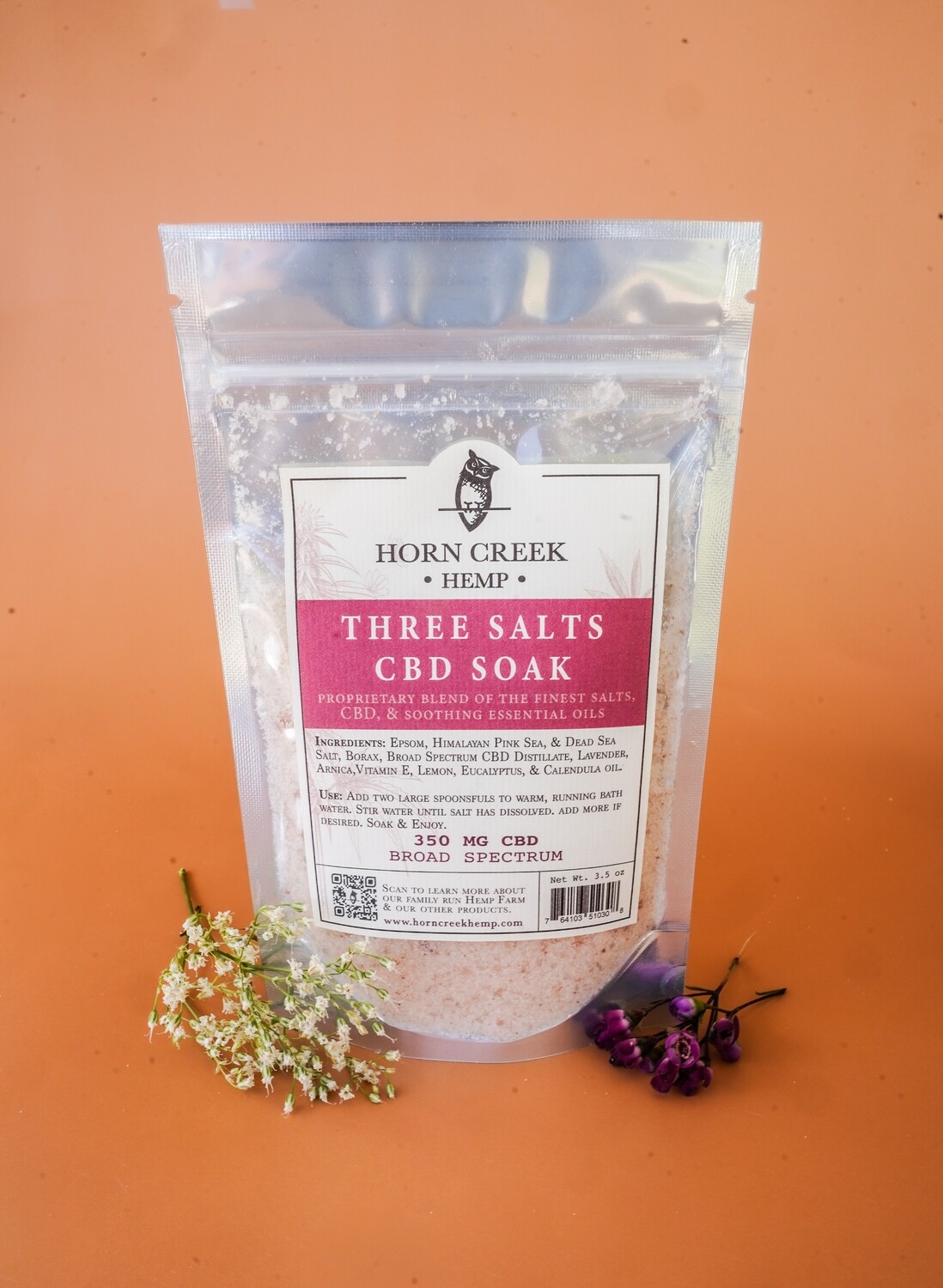 Three Salts CBD Soak | Bath Soaking Salts
SKU HCF-TSS-3.5 oz
Product Details
If one is good, three is better!
As farmers, we are tired and sore at the end of each day. This blend of natures' minerals helps us unwind. Three Salts Soak Blend is a combination of magnesium-rich Epsom Salt, Himalayan Pink, and Redmond Sea Salt from Utah. Feels fabulous, softens dry chapped hands, and leaves you ready to go for another day in the field, office, or trail.
We fortify our salts with a blend of essential oils carefully chosen for their soothing properties. We add full-spectrum CBD oil extracted from our own Special Sauce hemp flower. New formulation offers you 100mg of CBD in every ounce.
(3.5) oz contains 350 mg of CBD
(7) oz contains 700 mg of CBD
(14) oz contains 1400 mg of CBD.
Directions: Draw hot bath water adding 2-5 tablespoons of HCH Three Salts and stir until dissolved the salts. Ease in and enjoy. Soak long, soak often, and breathe deeply.
Ingredients: Epsom Salt, Himalayan Pink Sea Salt, Redmond Dead Sea Salt, Borax, Full Spectrum CBD Distillate, Lavender oil, Arnica oil, Vitamin E, Lemon Eucalyptus, and Calendula oil.
Shipping and Handling: Each package is carefully is shipped in a generic box with all legal documentation.
*Please note: It's the buyer's responsibility to know your state's regulations for hemp and CBD products. 2014 Farm Bill Compliant. Questions? Call 877-541-4367 or email sales@horncreekhemp.com.
*FDA Disclaimer: These statements have not been evaluated by the FDA. This product is not intended to diagnose, treat, cure or prevent any disease. Consult your physician if you are pregnant, nursing, or on medication. Keep out of the reach of children. For external use only.
Save this product for later